Ok, so last week reports were out about Shia Labaouf stating at the Cannes Film Festival during an interview how the second "Transformers" movie was way too big for its own recognition. Then goes on to mention how the third time around, the franchise would be taken a bit more seriously. Specifically he didn't state in what way, but the cat is out of the bag regarding approach.

(Started shooting this past Tuesday)

After having read that article, I recall feeling a little better and wondering what direction they're going. A fan of "Transformers" myself, I was okay with the first because well… it was the first. Watching something in film form and constructed by our modern tech, I was in awe. I can honestly say I enjoyed it. I could have done without the comedy or goofy characters (mainly in the "Autobots"), but the story had somewhat of a hook, and I was satisfied to a certain degree.

Then comes the sequel which opened last summer. I'm not going to say I had much expectation from it, because sequels always slip, but thought maybe… MAYBE this time around they'd focus more on the shaky relations between "Megatron" and "Starscream," more on "Soundwave's" purposes within the "Decepticons" and other little bits which were presented in the toons, like the "Dinobots" for example (Which are rumored to be involved in the 3rd.), but no. They felt compelled to go with a weak script and although it was nice to see the "Constructicons" and some of the most amazing F/X… it still suffered and the ridiculous comedy and added unknown charters was pretty much a lube-less rape on presenting one of the most fascinating experiences of my childhood.

I was so upset, the LEO in me wanted to leap out and attack the screen. Think "Kraven" from "Spider-man." Grrrr…

However; there has to be some level of higher-power out there. Whomever or whatever that might be, is serving as the third's saving grace. And it truly embellishes taking the third installment serious. Well, maybe not, we need to wait and see, but it's most definitely a sign of progression. That ladies and gentlemen is the dropping of MEGAN FOX. Yes, she's hot, great to look at, has screen presence and can serve as entertainment. But in the end… it's not like she's top notch talent and even though there are those who may argue her chemistry with Shia on screen, I beg to differ, and her mediocrity smears beyond just that. (Ever see Jennifer's Body?)

Paramount didn't disclose reasons why, but did state that it was ultimately Director, Michael Bay's decision.

Much can be assumed as to why that took place, but I think I have a theory. Something you don't do is bite the hand that feeds you. Here's a quote in an interview with Wonderland magazine where she refers to Bay as… (Well, just read)

"God, I really wish I could go loose on this one. He's like Napoleon and he wants to create this insane, infamous mad-man reputation. He wants to be like Hitler on his sets, and he is. So he's a nightmare to work for but when you get him away from set, and he's not in director mode, I kind of really enjoy his personality because he's so awkward, so hopelessly awkward. He has no social skills at all. And it's endearing to watch him."

Tsk-Tsk-Tsk... NOT GOOD!

Fox's people have since leaped out to say it was her decision to not sign on and that she wasn't dropped. Whatever the cause… who gives a shit!? I'm just happy that a sign of taking this one serious is somewhat clear. All I can do is pray for a well crafted script, drop the elementary comedy as I never recall the cartoons or comics with any humor and perhaps do away with the kiddy-like attitude. If anything, I feel this franchise should BE something along the lines of Predator, Cloverfield or maybe even War of the worlds.

Who's up as Megan's replacement remains to be seen. For FOX fans... her next flick opens in June where she'll co-star with Josh Brolin and John Malkovich in Jonah Hex. She was also granted the role of "Red Sonia" opening next year.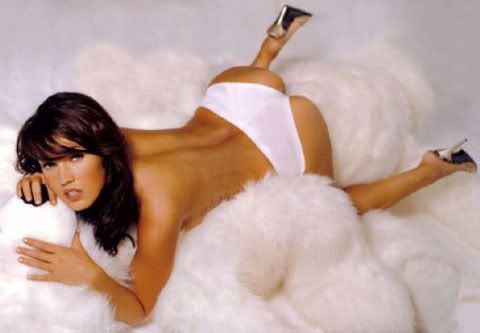 Told ya she's entertaining! DAMN, THIS WOMAN LOOKS GOOD! MMMM…